Coronavirus - contractual variation for employers
Coronavirus - contractual variation for employers
3rd April 2020
We understand that the COVID-19 global pandemic is a worrying and stressful time for our clients. As the lockdown of large parts of the British economy, school closures, social isolation and distancing measures make their combined effects felt, we know that employers in all of our key sectors are asking themselves whether and how they can mitigate the economic effect of the crisis by reducing their staffing levels. 

Last Friday the Chancellor Rishi Sunak announced the Government's 'Coronavirus Job Retention Scheme' to reimburse UK employers of all sizes and in any sector who 'furlough' staff (don't require them to work but keep them on the payroll instead of dismissing them as redundant or putting them on unpaid lay off) 80% of their wage costs up to a cap of £2,500 per worker per month. While this HMRC-operated 'grant' scheme may provide some reassurance to employers, the fine details of the scheme's application and operation are still awaited and the government support may not go far enough for many employers.

In this note we examine the law on contractual variation; we consider the various ways an employer might seek to vary the contracts of its staff and the relevance of the 'employment status' of those individuals to any proposed changes. We also consider how the job retention scheme might apply to different categories of staff.

Broadly speaking, employers have four options:

1. 'Short time': Reducing the number of hours worked by staff and paid by employer.
2. 'Unpaid Lay-off': Enforcing periods of mandatory unpaid leave for staff but not dismissing them.
3. 'Furloughing': Not requiring staff to work but keeping them on the payroll and paying them – at least some – of their wage.
4. 'Redundancy': Dismissing staff due to a reduction in the level of work.

How these four options are each achieved, and the legal risks associated with each method is likely to vary depending on the basis on which any given member of staff is engaged by the employer.

There are a myriad of different terms to describe staff, but broadly speaking the categories are: (1) employee, (2) worker, (3) free-lancer/self-employed contractor, and (4) zero-hours employee or worker.

Of course, much will turn on the specific contractual wording governing the individual's engagement by the employer, but this briefing note seeks to set out some general principles as to the different approaches that employers may choose to take with its different types of staff.
Summary

The table below seeks to summarise the position in respect of each class of worker mentioned below, and the approach to be taken towards their working arrangements. Further details relating to the issues that might be associated with each class of worker are set out in more detail below.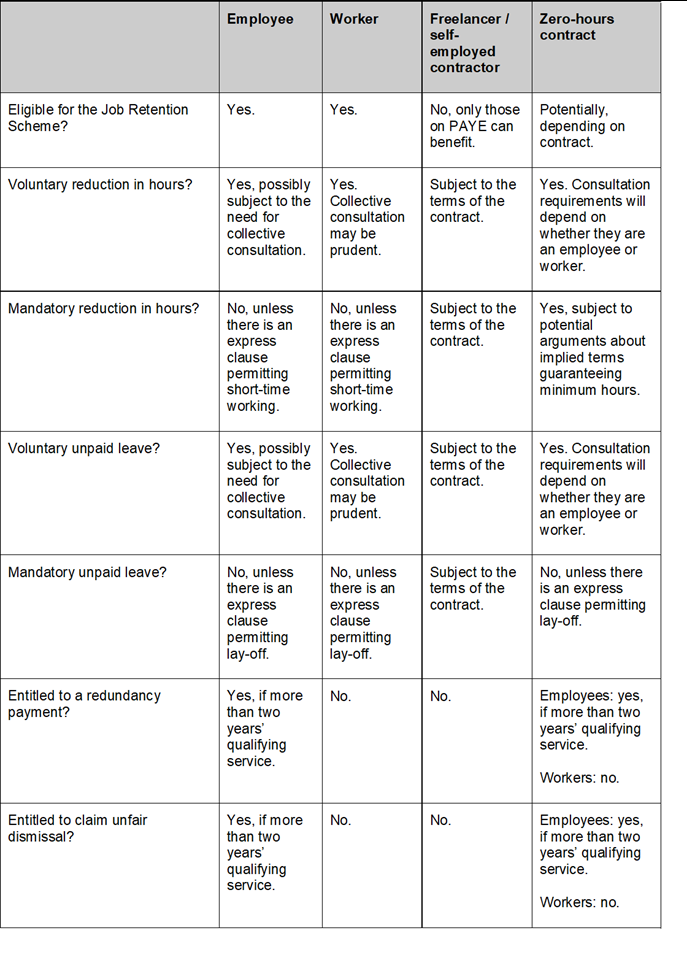 This publication is a general summary of the law. It should not replace legal advice tailored to your specific circumstances.
---
This article was republished from https://www.farrer.co.uk/. For more information on this topic, please contact David Hunt or Amy Wren, Farrer & Co.
---